Long Island Divorce Attorney
Don't Face This Alone - Call
(631) 777-7200

Today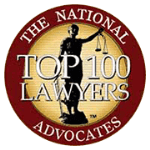 Filing for divorce is never easy. You will be separating much more than your marital relationship. You will have to divide your home, assets, and debts with your current spouse. If you have children, then even your parental relationship will be divided into visitation hours or the terms of a child custody arrangement. These crucial decisions might even be made by a judge on your behalf.
Why Choose Rubenfeld Law Firm?
Our Attorney Has Served Long Island for 25+ Years
2015 Avvo Clients' Choice Award Recipient
In the Nation's Top One Percent - National Association of Distinguished Counsel
Selected for The National Advocates: Top 100 Lawyers in NY for Matrimonial and Family Law
---
Rubenfeld Law Firm - Our Approach to Divorce Law
If you choose to work with our Long Island divorce attorney, you can rest assured knowing that your divorce lawyer is committed to the pursuit of excellence, effective communication, and strict personal and professional ethics. We will also take the time to get acquainted with your unique situation. Our firm can help you find the personalized legal strategies you need to protect your rights and your future.
Before You File for Divorce in NY
If you have decided to divorce in New York State, you are no longer required to state the grounds for your divorce, which was true just a few years ago. However, you and/or your spouse must still meet residency requirements before you file for divorce in Long Island or anywhere else in New York.
To meet New York's residency requirements, you must fulfill one of these:
You married in New York and one spouse lived here for at least one year before filing
You lived as a married couple in New York and one spouse has lived in the state for at least one year before filing for divorce
At least one spouse has lived in New York for a minimum of two years before filing
---
Not sure if you meet these requirements? Discuss your case today - (631) 777-7200!
Schedule a Consultation with a Long Island Divorce Lawyer Today
At Rubenfeld Law Firm, we believe that divorce is something you should never have to face alone. We realize it can be easy to feel overwhelmed, anxious, or even lost in the face of uncertainty. But our Long Island divorce attorney can help you restore your sense of control. We are ready to arm you with the information you need to successfully navigate your divorce in New York. Whether you have questions about the process ahead, or you are interested in discussing your legal options with our family law firm, we encourage you to take the first step today by scheduling your consultation.
Call today at (631) 777-7200 or fill out an evaluation form to take the first step. Get decades of exceptional service & trusted experience on your side!